Mennonites
by Prof. John D. Roth
Mennonites are a branch of the Christian church, with roots in the radical wing of the 16th century Protestant Reformation. Part of the group known as Anabaptists (because they rebaptized adult believers), the Mennonites took their name from Menno Simons, a Dutch priest who converted to the Anabaptist faith and helped lead it to prominence in Holland by the mid-16th century. Modern day Mennonites number almost 1 million worldwide, with churches in North and South America, Africa, Europe and Asia. Mennonites are known for their emphasis on issues such as peace, justice, simplicity, community, service, and mutual aid. In keeping with their spiritual roots, Mennonites still believe in the close textual readings of the Scriptures and a personal spiritual responsibility as the basis of their faith. Radical from the beginning, but later considered conservative in many of their beliefs, Mennonites have come to represent a spectrum of backgrounds and beliefs. Pacifism is one of the cornerstones of the Mennonite faith, prompting many young Mennonites to elect service to the church rather than military service. The Mennonite church emphasizes service to others as an important way of expressing one's faith. A disproportionately large number of Mennonites spend part of their lives working as missionaries or volunteers helping those in need, nationally or internationally, through agencies such as Mennonite Mission Network or Mennonite Central Committee. The first Mennonites came mainly from Swiss and German roots, with many of the important martyrs of the early church coming from the area around Zurich. To escape persecution, many Mennonites fled western Europe for the more accommodating religious climate of the Americas or Catherine the Great's Russia, giving these two groups distinctly different cultura l heritages. When the Russian Mennonites were eventually forced out of Russia in the last half of the 19th Century and the early 20th Century, many migrated to the western states and provinces, where today there is a large Mennonite population. Many people in the older generation of this group continue to speak a low german dialect called "Plautdietsch" and eat traditional foods. Swiss German Mennonites migrated to North America in the 18th and 19th centuries, settling first in Pennsylvania, then eventually across the Midwestern states. They too brought with them their own traditions, including hearty foods and the German language. Today large Mennonite populations can be found in Pennsylvania, Ohio, Indiana, and Kansas, although Mennonites live in all parts of the United States and the world.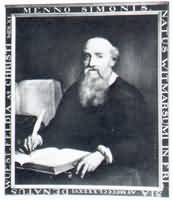 Menno Simons ( 1496 - 1561 )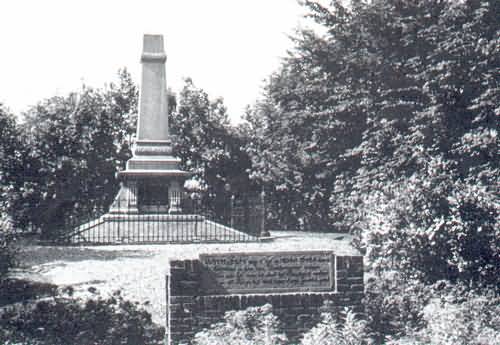 A Memorial for Menno Simons in Witmarsum / Friesl., Netherlands. In early times Menno preached to his followers in the home of a friend. Later there stood on this Place the Mennonite Church of Witmarsum.
Menno Simons rejected the Catholic Church and the priesthood on 12 January 1536, casting his lot with the Anabaptists. The exact date of his new baptism is unknown, but he was probably baptized not long after leaving Witmarsum in early 1536. By October 1536 his connection with Anabaptism was well known, because it was in that month that Herman and Gerrit Jans were arrested and charged with having lodged Simons. He was ordained around 1537 by Obbe Philips. Obbe and his brother, Dirk Philips, were among the peaceful disciples of Melchior Hoffman (the more radical of Hoffman's followers having participated in the Münster Rebellion). It was Hoffman who introduced the first self-sustaining Anabaptist congregation in the Netherlands, when he taught and practiced believers' baptism in Emden in East Frisia. Menno Simons rejected the violence advocated by the Münster movement, believing it was not Scriptural.[6] His theology was focused on separation from this world, and baptism by repentance symbolized this.
"For true evangelical faith...cannot lie dormant; but manifests itself in all righteousness and works of love; it...clothes the naked; feeds the hungry; consoles the afflicted; shelters the miserable; aids and consoles all the oppressed; returns good for evil; serves those that injure it; prays for those that persecute it."
—Menno Simons, Why I Do Not Cease Teaching and Writing, 1539
Menno evidently rose quickly to become a man of influence. Before 1540, David Joris, an Anabaptist of the "inspirationist" variety, had been the most influential leader in the Netherlands. By 1544, the term Mennonite or Mennist was used in a letter to refer to the Dutch Anabaptists.
Twenty-five years after his renunciation of Catholicism, Menno died on 31 January 1561 at Wüstenfelde, Holstein, and was buried in his garden. He was married to a woman named Gertrude, and they had at least three children, two daughters and a son.
Today's Mennonite Communities
* Mennonite Branchweilerhof Church holds worship
on Sundays at 9:30am in the chapel at Branchweilerhof.
Its chairman is
Wanda Schowalter.
* Mennonite Missionary Church holds worship
on Sundays 9:30am at the metting room at Branchweilerhof 7.
Its chairman is
Anneliese Bergtholdt-Lichti
.
* Mennonite Brethren Church holds worship
on Sunday 9:30am in the house at Hetzel Street 19.
Its chairman is
Klaus Schuster
.
(back)